Music
Purpose and Aims
Purpose:
At Harpenden Academy we provide an exciting musical curriculum. We believe that Music is a universal language that embodies one of the highest forms of creativity. Here at Harpenden Academy we aim to engage and inspire pupils to develop a love of music and their talent as musicians, and so increase their self-confidence, creativity and sense of achievement. At Harpenden Academy the children are taught to develop a critical engagement with music.
Aims:
To perform
To compose
To transcribe
To describe music
Provision
Our curriculum is categorised in 2 ways
Breadth - which gives pupils experiences of playing and performing in groups and on their own, using voices and instruments accurately, improvise and compose music, listen to a wide range of music and develop an understanding of the history of music.
Depth - which helps pupils to think and act like musicians.
Whilst coverage is our goal for the "breadth" element, repetition and increasing the understanding is our goal for the "depth" element.
Our curriculum drivers shape our approach to teaching music so that every opportunity is taken to relate music to the needs of our pupils. Music is studied throughout each academic year and across each key stage so that pupils can gain a growing developmental understanding of the matters, skills and processes in our curriculum. Coherent contexts for learning engage and involve pupil.
Progression and Assessment
Our progression has 4 key objectives which mirror the four aims of the subject. We set out our expectations around Chris Quigley Essentials "mile stones" approach. Each milestone has a set of indicators that re repeated throughout 3 cognitive domains: Basic (We call it Paddling), Advancing (we call in snorkelling) and Deep (we call it diving). It is expected that the vast majority of pupils will have an advancing understanding by the end of the milestone and some will have a deep understanding.
Assessment and reporting
We will assess the pupil's depth of understanding each term and use this to forecast as to whether pupils are on track to meet our curriculum expectations for the end of the milestone.
Monitoring, Evaluation and Improvement
The role of the leader in monitoring pupil's outcomes is to audit teacher's judgements. This is done collectively in staff meetings and then collated by the leader. The leader then works collectively with the teachers to examine the strengths of the provision along with the areas for development for the provision. The leaders then create an action plan to improve achievement. The leader keeps track of the improvements they have secured over time to understand how effect the provision is.
Click here to find out more about:
Harpenden Schools' Music Association Spring Concert, March 2019
Scholars' Education Trust Concert, February 2019
Year 3 and 4, The Twelve Days of Christmas
As a class the children practised and rehearsed the twelve days of Christmas. They had the words on the screen.
Year 5, composing
We composed a story with different emotions throughout by starting with being calm and moving towards a problem and then finishing being calm.
Wellbeing Week, The Big Music Company, Harpenden Academy Sings Gospel
The Gospel singers literally raised the roof on Wednesday and if you were lucky enough to see the end product at the end of the day, the children shone. This isn't going to be the end of Gail the Gospel singer—Mrs Moss and myself are hatching a plan!
Year 6 Composers
This week Year 6 had a wonderfully creative and noisy afternoon in the music room composing music for our Take One Book story Way Home. Each group was given a page from the story with pictures and words and had to create a piece of music to tell that part of the story. They then had to record their composition using symbols of their choice. I was extremely impressed with the way the children reflected the mood and suspense of the story in their compositions through varying tempo, dynamic, pitch and rhythm, not to mention creating cohesion (as they have in their Way Home story writing) with repeated sounds and links from the end to the beginning of their piece. Well done Year 6 composers!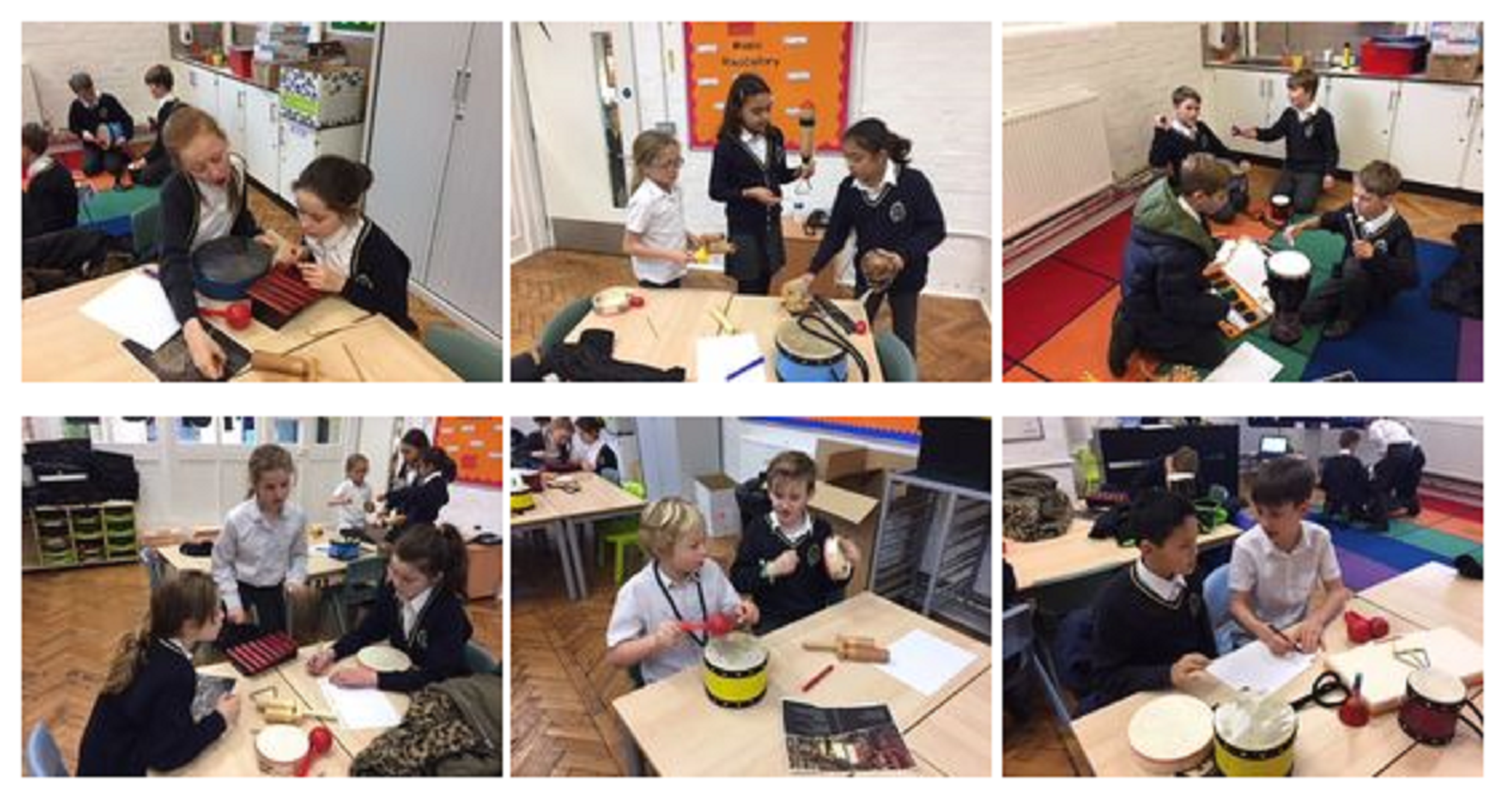 Music Room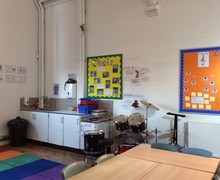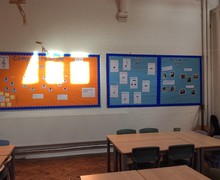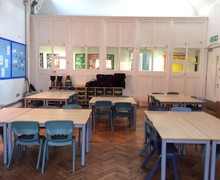 Singing Assembly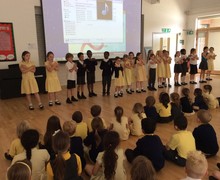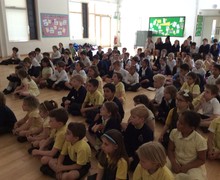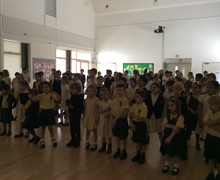 Violin Lessons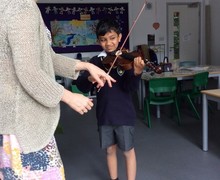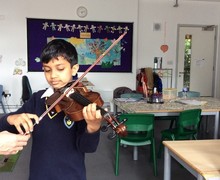 Year 3 Music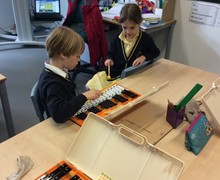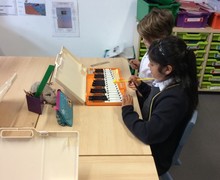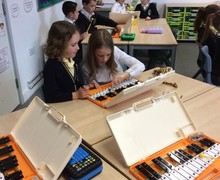 Year 5 Music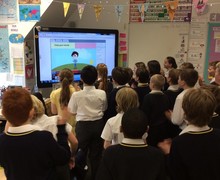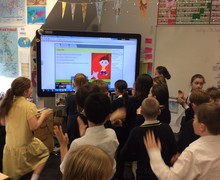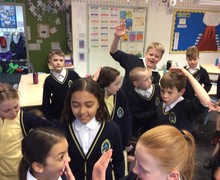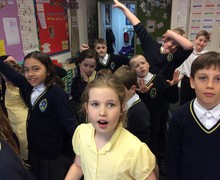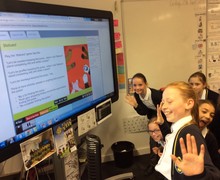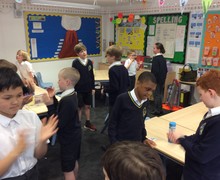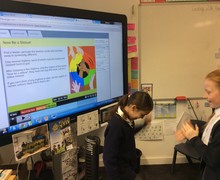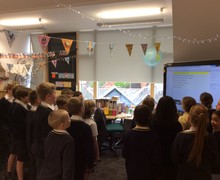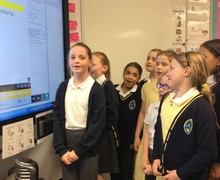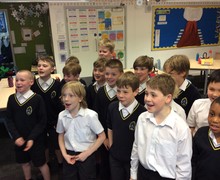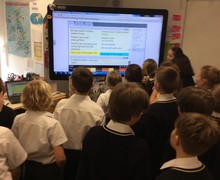 Young Voices