Parent Contact
Parents' Evenings
We hold information evenings in the Autumn and Spring terms and an open evening in the Summer term where we get together with parents to discuss the latest educational issues facing their children. For the Autumn and Spring parents' evenings the children send a PowerPoint or video link one week in advance of the meeting so that parents can discuss their progress with the children prior to the parents' evening.
Our induction days and evenings allow parents to begin their partnership with the Academy where they meet staff and see the Academy for perhaps the first time.
EduLink One
Harpenden Academy uses a portal called EduLink One which provides a convenient and accessible solution for the school to communicate with parents on all aspects of school life and also allows parents to access all information about their child in one place.
Edulink One
What Can EduLink One Do?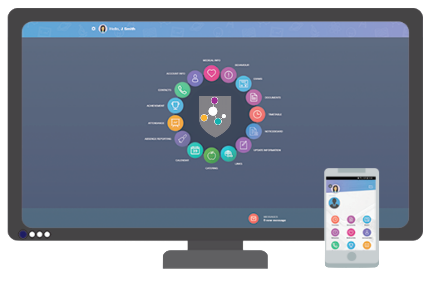 Some of the EduLink One features which parents may find useful are listed below:
Absence Reporting - Parents can easily report their child absent from school due to illness. They will also be notified via email if their child is absent from school.
Account Info - This screen will allow parents to see general information that we hold about their child.
Achievement - Will show parents any achievements awarded to their child.
Attendance - Parents will be able to view statutory attendance statistics for their child.
Behaviour - This will give parents access to the behaviour records for their child.
Calendar - This will be populated with upcoming events, parents' evening dates and school holidays. If a dot is showing under a date, it means there are one or more events happening that day. Click the date to find out more information.
Catering – This screen links to ParentPay accounts, it will let parents know what their child has chosen to eat and the balance on their account.
Contacts - This screen will show parents the contact information we hold on file for them.
Documents – In this section parents can find the annual school report for their child.
Exams - This will give parents information about any exams their child may be taking. An exam timetable as well as exam entries are displayed.
Forms – On occasion we will ask parents to complete reply slips through EduLink One, these are found in the forms section.
Messaging - We now communicate with parents via email and push notifications to the app. Parents will receive instant paperless communications into the EduLink One communicator tool as well as to their email inbox. Parents can also use EduLink One to contact their child's teachers.
Timetable - This gives parents a view of their child's current timetable and will be kept up to date with any changes of teachers, groups or rooms as they happen.
Update Information – Parents can access and edit their contact details and their child's information and consents, keeping the school up to date with any changes. (Note: This data can be accessed by any parent with Parental Responsibility and an EduLink One log-in).
FAQs
How do I get a log-in for EduLink One?
Parents will have received their username via email from Harpenden Academy.
If you have not received an email (please ensure your email address is up-to-date with the School Office) or would like to access EduLink One, please contact us at Harpenden Academy Technical Assistance.
Is EduLink One secure?
All data within the EduLink One software is encrypted and secured using the most up-to-date TLS 1.2 secure encryption technology.
How can I access EduLink One?
EduLink One is a school information platform that can be accessed on any device – PC, laptop, tablet or mobile device – via the web browser or via the EduLink One app.
Once you have received your log in details, you can access the system by entering the school ID which is 'Harpenden' as well as your username and password.
Links to EduLink One can be found as follows:
EduLink One is available from Google Play, Amazon App Store and the Apple App Store. Click on the icons below to access the relevant store.
| | |
| --- | --- |
| | Requires iOS 8.0 or later. Compatible with iPhone, iPad and iPod touch |
| | Requires Android 4.4 or later |
| | Requires Android 4.4 or later |