Headteacher's Welcome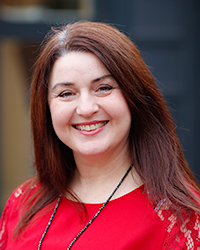 Harpenden Academy is part of Scholars' Education Trust which is a Multi Academies Trust of 5 local schools. This is a large learning community that functions in what is best described as a large family. Each school in the Trust retain their identities but the central DNA of the Trust is shared across all the schools in a "brother/sister" relationship. We work closely together and we are a large happy family.
I have been lucky enough to be a part of the Harpenden Academy history and successes since September 2016. My aim as head teacher is to make sure that every year, we see our children learning happily and, of course, succeeding both academically and socially so that they grow into happy, knowledgeable and caring citizens of whom we can all be proud. Our positive approach, combined with the dedication of our staff team is making this a reality.
Lisa Davies, Headteacher
"Leadership is highly effective. The positive impact that leaders have had improving the school is very clear. The school is now securely good and improving."
"The headteacher has high expectations and wants the very best for pupils. Her vision is shared by the school's other leaders. As a result, the school has improved greatly and is now on a clear upward trajectory."
"Leaders have an excellent understanding of what effective teaching and learning looks like."
School Ofsted Report, June 2019