Mathematics
Purpose and Aims
Purpose:
Mathematics is a creative and highly inter-connected discipline that has been developed over centuries, providing the solution to some of history's most intriguing problems. It is essential to everyday life, critical to science, technology and engineering, and necessary for financial literacy and most forms of employment. A high-quality mathematics education therefore provides a foundation for understanding the world, the ability to reason, an appreciation of the beauty and power of mathematics, and a sense of enjoyment and curiosity about the subject. It allows children to gain resilience and develop a range of strategies to solve problems set before them, drawing on previous knowledge and applying this knowledge to support solving a range of problems.
Aims:
To become fluent in the fundamentals of mathematics, including through varied and frequent practice with increasingly complex problems over time, so that pupils develop conceptual understanding and the ability to recall and apply knowledge rapidly and accurately.
To reason mathematically by following a line of enquiry, conjecturing relationships and generalisations, and developing an argument, justification or proof using mathematical language.
To solve problems by applying their mathematics to a variety of routine and non-routine problems with increasing sophistication, including breaking down problems into a series of simpler steps and persevering in seeking solutions. Pupils are able to see connections between mathematical concepts to support their problem solving and can verbalise these findings.
Provision
Our curriculum is categorised in 2 ways
Breadth - This gives pupils experience of a range of different methods and strategies focusing on the concrete- pictorial - abstract pedagogy using Maths No Problem.
Depth - Giving pupils opportunities to apply their learning in a range of different environments: cooking, problem solving; organising events and enterprise initiatives for example which help pupils to apply their knowledge and understanding. There are also opportunities to problem solving; peer teaching; make generalisations and adapting understanding to be able to conjecture and prove what has been noticed.
Whilst coverage is our goal for the "breadth" element (repetition and increasing understanding); our goal for the "depth" element is that pupils are able to identify, apply and explain a range of methods to explain their mathematical understanding and thinking.
Our curriculum drivers allow for pupils to develop and gain resilience when problem solving and functioning mathematically in real life situations (such as LOTC and Science, for example). This enables our pupils to apply mathematical knowledge and understanding from lessons and apply them in solving a range of problems across the curriculum and beyond.
Progression and Assessment
Our progression has 3 key objectives which mirror the three aims of the subject. We address these through Maths - No Problem!
Assessment and reporting
Teachers report half termly as to the progress pupils are making and this is used to forecast as to whether pupils are on track to meet curriculum expectations.
Monitoring, Evaluation and Improvement
The role of the leader in monitoring pupil's outcomes is to audit teacher's judgements. This is done collectively in staff meetings and then collated by the leader. The leader then works collectively with the teachers to examine the strengths identified along with the areas for development. The leader then creates an action plan to improve achievement. The leader keeps track of the improvements they have secured over time to understand how effect the provision is.
Maths Masterclass, Year 6, January 2019
A group of Year 6 mathematicians took part in the January maths masterclass along with several other schools in Harpenden.
The theme was money and they explored the concepts of trading, simple and compound interest and stock markets. The session also covered risk, volatility, bell distribution and probability. The children were all fascinated and I could almost hear their brains growing as they puzzled new concepts in maths, physics and finance!
As always they were excellent ambassadors - showing curiosity and courage in equal measure to learn and try new things.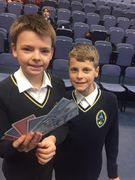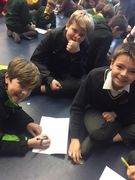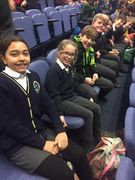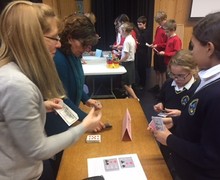 Maths, Year 3, Weighing & Estimations, January 2019
This week, Kipling class have been benefiting from Miss Harvey's extra curricular Mathematics training. She spent the weekend preparing flour and sugar bags, ready to be weighed by our eager young people. It was a fantastic lesson, which incorporated active learning and exploration of number problems. The children had fun estimating how much each bag would weigh and then practised using the scales to accurately record their findings. Miss Harvey even teased them with her favourite savoury snack (crisps) but refused to share them out at the end of the fun filled lesson!
The children extended their learning by linking it to their science lesson calling it "a great experiment!" Some super smart children also designed their own weighing scales by using a ruler and pencil to balance the bags on.
Whoever would of thought that Maths could be so much fun !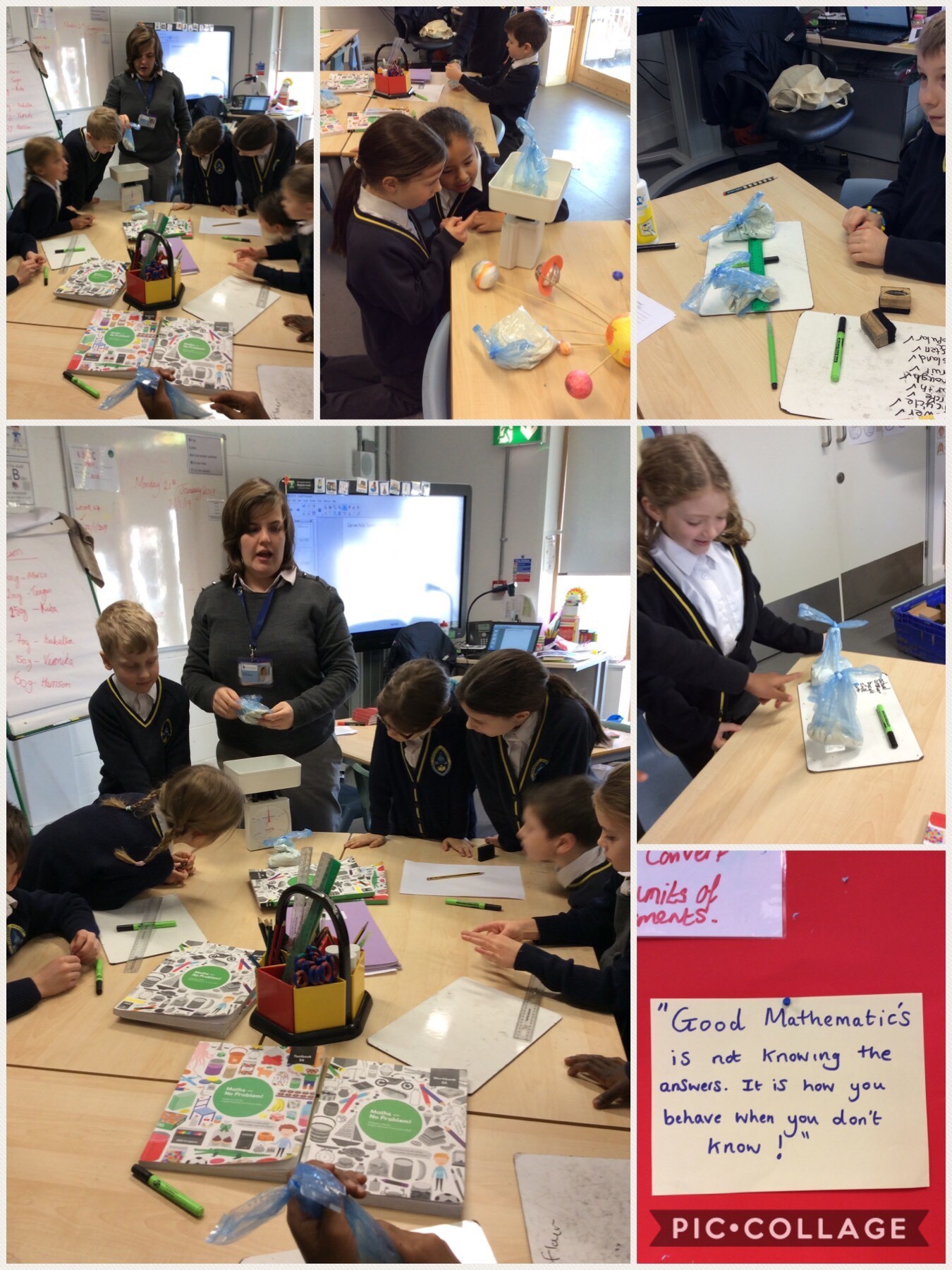 Dinosaur Maths, Reception Ladybird Class, October 2018
Today we had a maths investigation into how big a triceratops foot was. We compared it to our own feet and then we decided to see how many of our feet it took to fill up a triceratops's footprint. Eventually we decided it took exactly 15 children's feet, we counted in 2's to discover that 15 children have 30 feet. We then spent the afternoon filling the dinosaur footprint with different objects, estimating each time.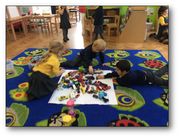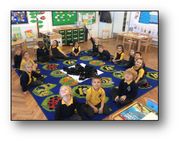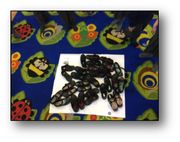 Go Club
Grow your Own £ Enterprise
Fantastic work for our first endeavour for a whole school enterprise project!
Grow your £1 Enterprise month officially ended on Saturday, 30th June. This has been a wonderful event which has really shown the children (and parents) to be innovative, creative and competitive in their approach.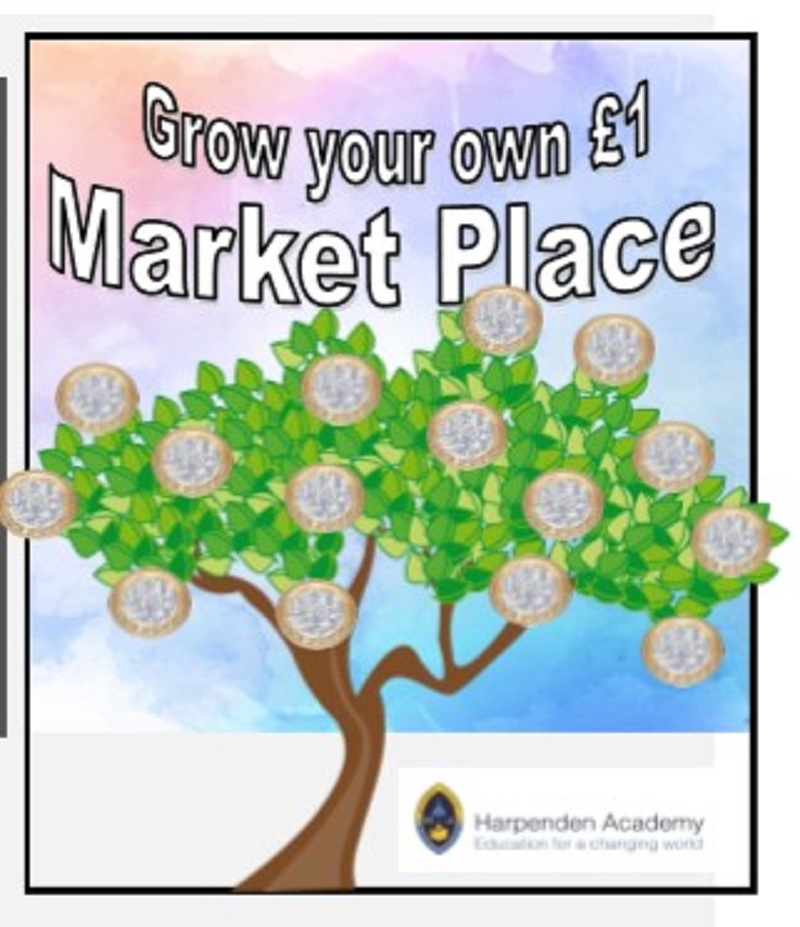 Happy Puzzle Company
Math's week, October 2018 has been a really successful event which the children and staff have enjoyed.
The Happy Puzzle company started the week with plenty of interactive fun games for the children to play and learn from.
Magical Maths entertained the children with their Maths Mysteries! Magical Maths are also hoping to start a Magical Math's club at Harpenden Academy soon. We will keep you posted with any developments on this matter.
Finally we finished with wearing a pattern to school day today, which the children and staff embraced.
As part of Maths Week, The Happy Puzzle Company came to Harpenden Academy in October 2017. The children worked in teams to solve problems. Back in the classroom, they continued the fun!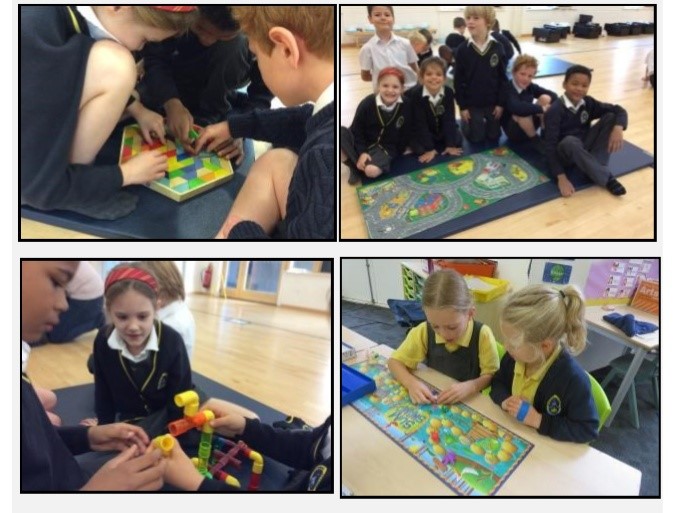 Harpenden Schools Maths Masterclass
Harpenden Schools Maths Masterclass, 1st December 2017
On Thursday afternoon eight mathematicians from year six took part in a Harpenden schools maths masterclass, learning about the maths and science behind rainbows. They were extremely curious, engaged and enthusiastic throughout the activity - using compasses, protractors and set squares to draw the angles of incidence and refraction of the rainbow.

Well done mathematicians!
Maths Masterclass Thursday 25th January 2018
Year 6 had a mind-blowing Maths Masterclass run by the Royal Institute learning about magic maths - spotting patterns and generating rules linked to magic squares. They completed and investigated Magic Square 3 x 3 and 4 x 4 and even used algebra to solve a magic date number square!
"I was so proud of the children's engagement, perseverance, and ability to spot patterns and change their investigations based on these patterns, not to mention their confidence and eloquence when answering questions and sharing findings with the group." - Mrs Watson
The lady from the Royal Institute complimented several of our children, for their 'mathematical spark', stating 'Hearing your mathematical explanation is like music to my ears'.
Here are some of the children's comments reflecting their excellent thinking mathematically skills:
"I think there will be 81 possibilities because 9 x 9 = 81." (V – Year 6 Pupil)
"Having the 6 in the middle can't work because you couldn't use the 10 in a number bond to 16. Let's try 4 in the middle because that's one less than 5." (E – Year 6 Pupil)
"I'm wondering if those 4 total 34 as well." (M – Year 6 Pupil)
"This one is different because it has two of some numbers." (R – Year 6 Pupil)
Magical Maths Club
At Harpenden Academy, children have the opportunity to attend an exciting extra-curricular club after school.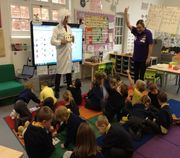 Shape bingo with Magical Maths
Maths - No Problem!
Harpenden Academy teaches maths primarily through the concrete-abstract-pictorial approach. The children have really enjoyed the new approach to our maths lessons.
Pupil Voice:
"I like using the number bead lines in maths." (Reception Pupil)
"I like maths because we become detectives and solve problems!" (Year 1 Pupil)
"I like maths because I enjoy the challenges." (Year 2 Pupil)
"I love that there are many different methods in the Maths – No Problem books because if you're stuck on one method, you can use another." (Year 5 Pupil)
Live Learning
We completed a Live Learning maths lesson in Year 4. Parents had the opportunity to join us for a Maths No Problem lesson on converting fractions to decimals. The lesson had some positive feedback:
Year

(Number attending)

Subject

Most useful thing about the session?

How will home learning be impacted?

Future Subjects?

3 word summary

Year 4

(4)

Maths

(Converting fractions to decimal)

Working together
Seeing the structure of a "Math –No problem!" lesson
Seeing how maths is taught
Seeing how maths is taught which will make home learning easier

I will do more of it.
I now know more about what happens in the classroom so I can mirror it
Utilise techniques at home rather than my old way of doing things.
Using the same terminology at home

Science
Design
Art
English

Informative, interesting, fun, great insight
Workshops
Year 6 Maths Mastery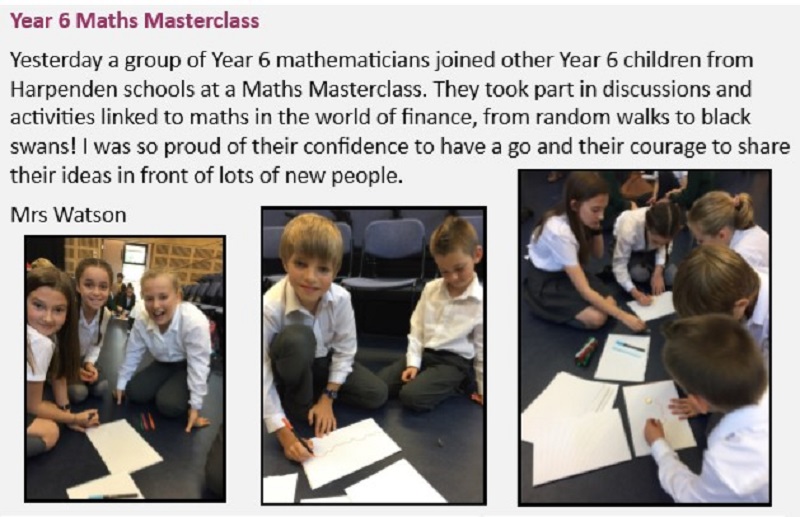 World Cup 2018
July 2018, Year 6 have been busy solving World Cup 2018 and Wimbledon related maths problems. One activity involved them measuring the area and perimeter of our own football pitch as well as the circumference, diameter and radius of the centre circle. The children then used ratio to compare the size of our pitch to than of the full size pitches being played on at the World Cup.
Year 6 Ratio Topic
This week, 16 March 2018, in Year 6 we kicked off our ratio topic by making blackcurrant squash using one part cordial to nine parts water in a variety of measuring jugs with different capacities. To check we'd all got the ratio correct - we compared the colour of our juice at the end!