English
Purpose and Aims
Purpose
English has a pre-eminent place in education and in society. A high-quality education in English will teach pupils to speak and write fluently so that they can communicate their ideas and emotions to others, and through their reading and listening, others can communicate with them. Through reading in particular, pupils have a chance to develop culturally, emotionally, intellectually, socially and spiritually. Literature, especially, plays a key role in such development. Reading also enables pupils both to acquire knowledge and to build on what they already know. All the skills of language are essential to participating fully as a member of society; pupils who do not learn to speak, read and write fluently and confidently are effectively disenfranchised.
Aims
Writing:
• The ability to write fluently and with interesting detail on a number of topics throughout the curriculum.
• A vivid imagination which makes readers engage with and enjoy their writing.
• A highly developed vocabulary and an excellent knowledge of writing techniques to extend details or description.
• Well-organised and structured writing, which includes a variety of sentence structures.
• Excellent transcription skills that ensure their writing is well presented and punctuated, spelled correctly and neat.
• A love of writing and an appreciation of its educational, cultural and entertainment values.
Reading:
• Excellent phonic knowledge and skills.
• Fluency and accuracy in reading across a wide range of contexts throughout the curriculum.
• Knowledge of an extensive and rich vocabulary.
• An excellent comprehension of texts.
• The motivation to read for both study and for pleasure.
• Extensive knowledge through having read a rich and varied range of texts.
Communication (speaking and listening):
• An exceptional talent for listening attentively so as to understand what is being said.
• A rich and varied vocabulary that gives clarity and interest to conversations.
• Clear speech that can be easily understood by a range of audiences.
• An excellent grasp of the rules used in English conversation, such as tenses and the grammatical structure of sentences.
• A highly developed ability to tell stories that capture the interest and imagination of the audience.
• A delight in initiating and joining in conversations.
• Respect for others when communicating, even when views differ.
Provision
Our curriculum is categorised in 2 ways
Breadth - which gives pupils experiences of a range of communication, literature/genres, contexts for reading and writing
Depth - which helps pupils to think and act like readers, writers and communicators
Whilst coverage is our goal for the "breadth" element, repetition and increasing the understanding is our goal for the "depth" element.
Our curriculum drivers shape our approach to teaching English so that every opportunity is taken to relate reading, writing and communication to the needs of our pupils. Daily English is studied throughout each academic year and cross-curricular links are made to give context to the children. Purposeful writing can be seen in all areas of the curriculum.
Progression and Assessment
We set out our expectations around Chris Quigley Essentials "milestones" with a T4W approach. Each milestone has a set of indicators that are repeated throughout 3 cognitive domains: Basic (We call it Paddling), Advancing (we call in snorkelling) and Deep (we call it diving). It is expected that the vast majority of pupils will have an advancing understanding by the end of the milestone and some will have a deep understanding.
Assessment and reporting
We use Herts for Learning to assess our children each half term formally. HfL TAFs are used to support assessments in all year groups. We assess the pupil's depth of understanding each half term and use this to forecast as to whether pupils are on track to meet our curriculum expectations for the end of the milestone.
Monitoring, Evaluation and Improvement
The role of the leader in monitoring pupil's outcomes is to audit teachers' judgements via book looks as well as ensuring breadth and depth of curriculum through book looks, learning walks, learning talks (with pupils) and lesson observations. Strengths and areas for development are identified and actions shared with staff then reviewed to assess impact. Book looks are done collectively in staff/SLT meetings and then collated by the leader. The subject leader action plan and monitoring evidence is kept in the monitoring file and evidence is gathered and celebrated in the English portfolio.
Please click here for an overview of our English curriculum.
EYFS Talk for Writing, Ladybird Class, February 2018
Today in Early Years we were inspired to write by our Talk for Writing text - Emergency, Emergency. This is part of our topic 'People That Help Us'. The other children were so inspired by Sakina's perseverance that they all decided to write out the story!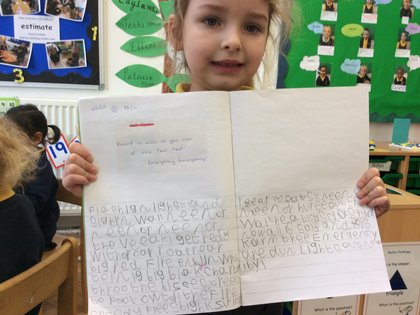 November 2018
Thank you to the children and parents who trialled Spelling Shed in November. We received an overwhelming amount of positive feedback so we have decided to purchase it for the whole school! Your teacher will have sent a log-in home for your child and will be assigning spelling lists to them. Children can decide which level to play and earn points for correctly spelt words.
Mrs Johnston carried out a learning walk this week to find out what the children and staff had to say about their experience of Spelling Shed so far:
"I like Spelling Shed because there are boards, leagues and points to make spelling fun. I am really starting to understand the spelling rules!"
"I really enjoy Spelling Shed because I like how fun the games are and it tests your spelling."
"It has made learning spelling exciting again!"
"Spelling Shed has really captured the children's imagination!"
"When my teacher introduced it to us, I thought how interesting it looked! I like it being competitive!"
"I can't believe we were 70th out of 5000 schools last week! What an achievement!"
Grow your pound - 1 Book, 1 Bookmark, 1 Pound - June 2018
Going Global Week – June 2018
This week has been an exciting opportunity to explore texts from around the world and learn about different cultures. We have written about different continents, experiences and events using a wide range of genres.
Reception – Ladybirds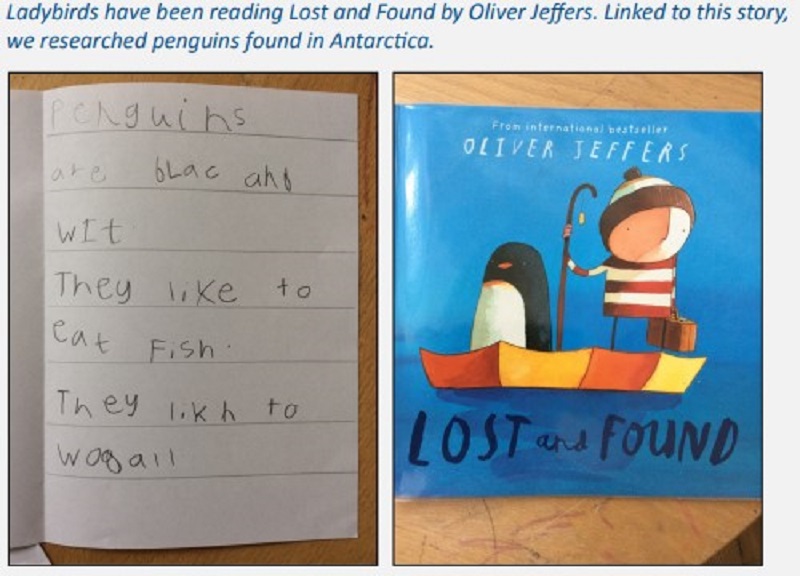 KS1 – Year 1/2 Aslan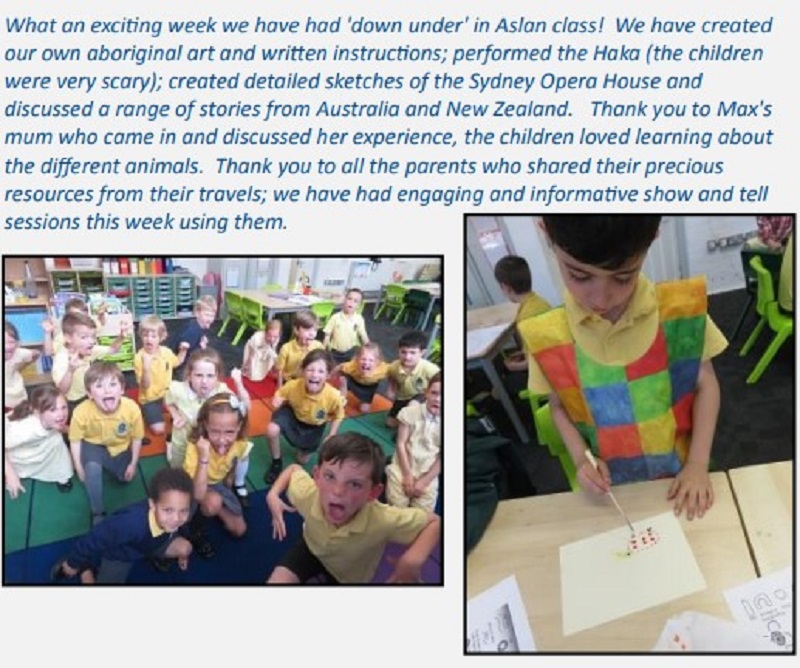 KS2 – Year 6 Shakespeare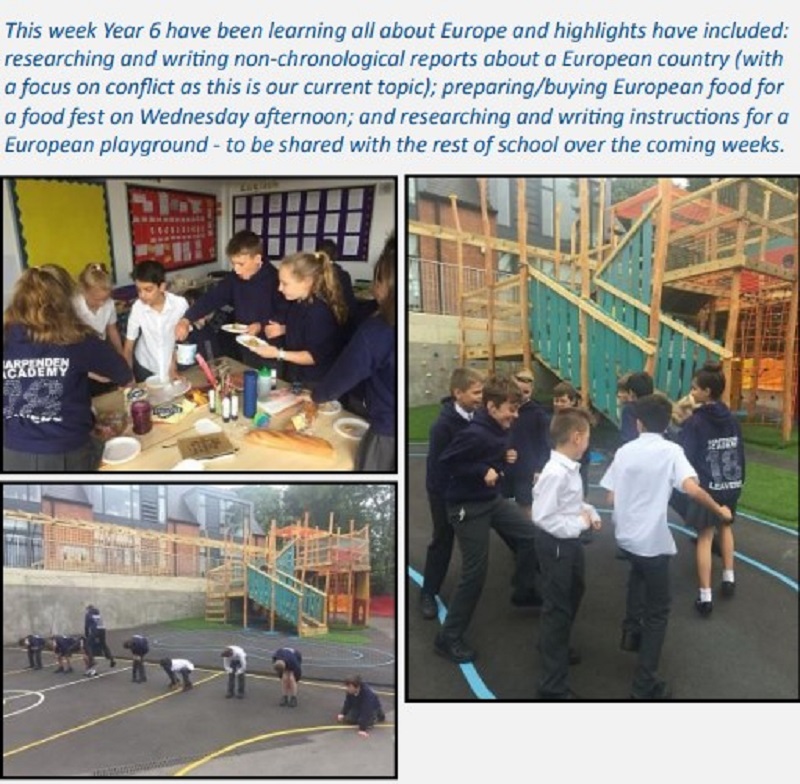 Parent Phonics Workshop – May 2018
An informative phonics workshop was held to provide parents with information about the Year 1 Phonics Screening. This workshop included statutory information as well as ideas on how to support the children develop their phonics knowledge further. Links to games and resources were provided and the opportunity for some hands on learning for the adult too!
Value of the month (April – Humour)
What better way to stimulate our writing than to use our school value. Well done Year 3 on these hilarious limericks!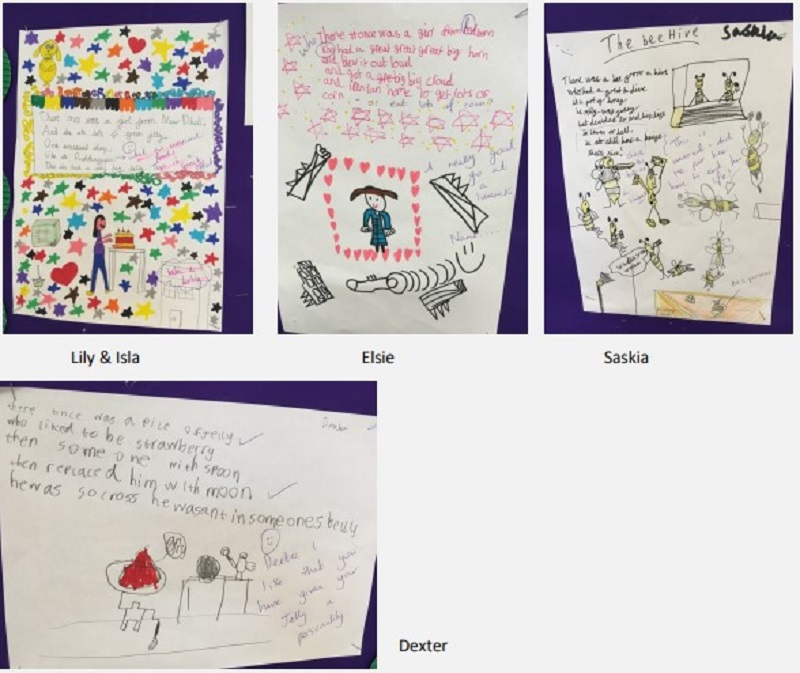 Harpenden Primary Schools Awards Ceremony – March 2018
We attended an awards event this week where two of our children Lottie and Ailsa received their awards from Harpenden Mayor on Tuesday 27th March for their winning entries into the Harpenden School Story writing competition. We were thrilled for the children and parents who are flying the flag for Harpenden Academy. It is a cause for celebration that 4 out of the 7 categories had a Harpenden Academy pupil in either 1st, 2nd or 3rd positions.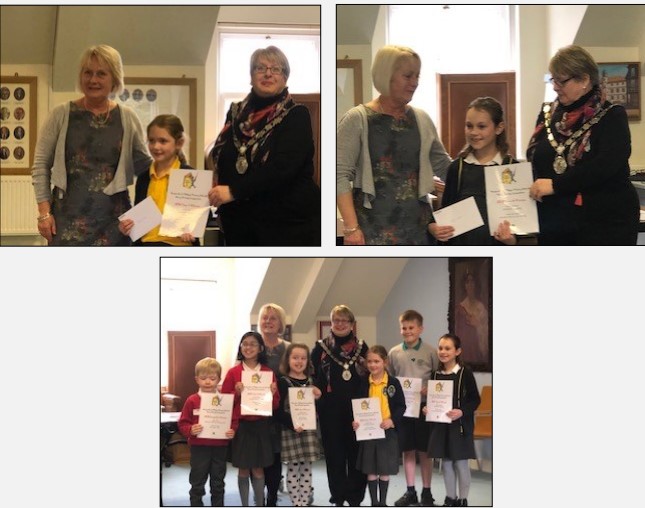 National Poetry Day – March 2018
On Wednesday we celebrated National Poetry Day with the arrival of Professor Pango Mango. The children has a great time with him celebrating poems and poetry in his unique style. The children and staff had a great time as their comments below indicate:
World Book Day 2018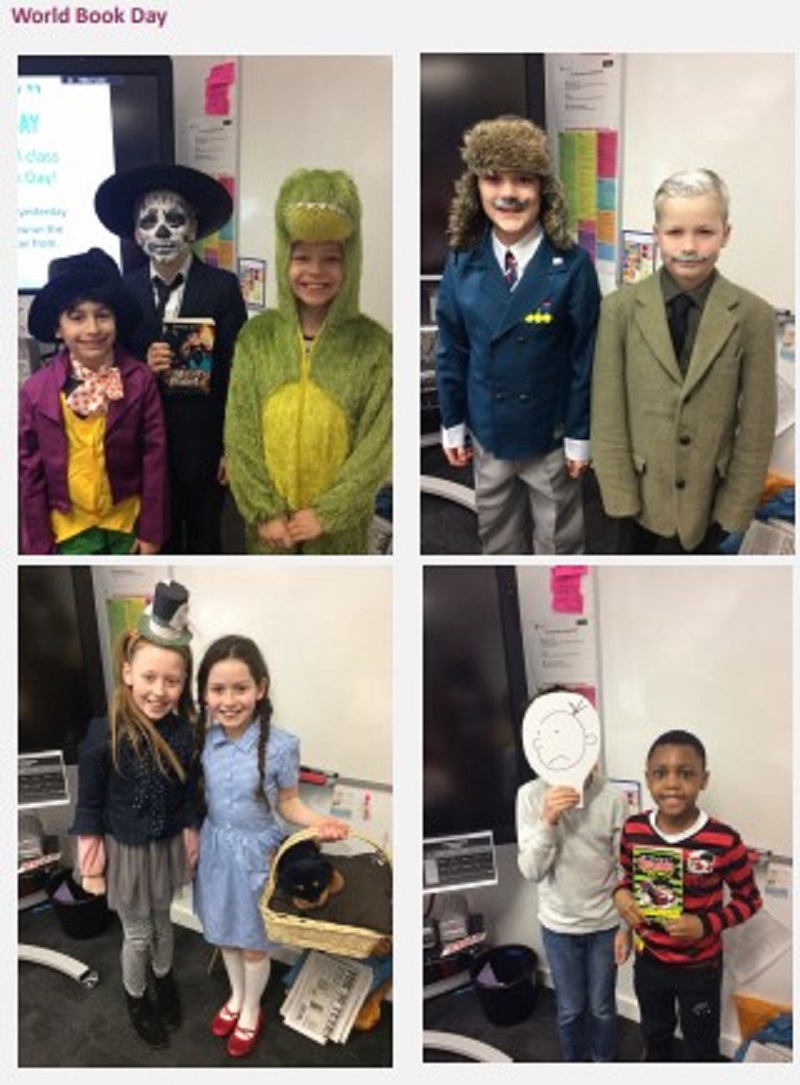 Family Groups – Role Play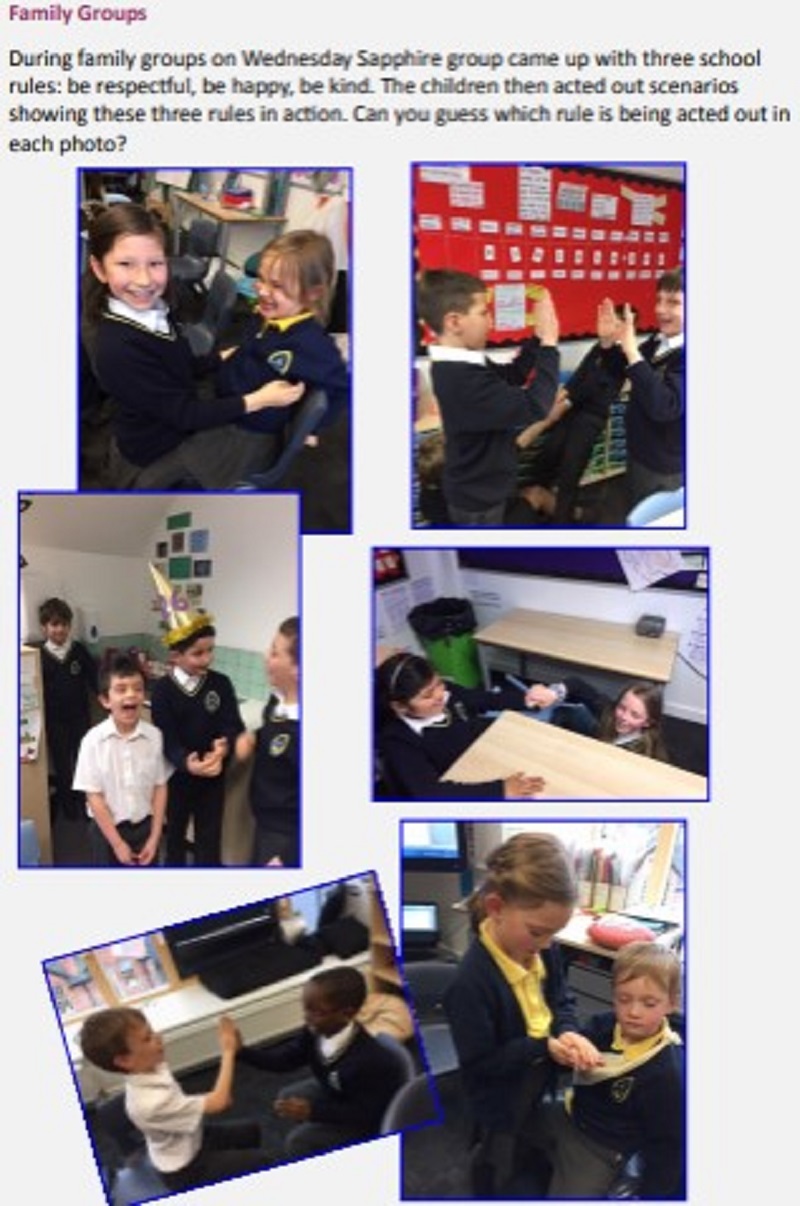 National Storytelling Week – February 2018
National Storytelling Week It has also been National Story telling week too. We have had a few parents/ grandparents who have come in to school this week to tell the children stories. Despite the children living in a technologically advanced era the simple act of telling a story always engages the children. The children hear all the nuances of meaning and expression in sentences when read to/told a story and they thoroughly enjoy it. Thank you to our volunteers who gave their time to our children.
Author Visit BFG
This Wednesday BFG invited the author and editor Jodie Parachinin to read them two of her books: The Perfect Job for an Elephant' and 'This is a serious book'. The children were absolutely enthralled and had so many questions to ask. The budding young authors amongst us have been so inspired that they have been writing their own books.