Reception Admissions 2021
Welcome to Harpenden Academy and we are very much looking forward to welcoming all our new families to our school community.
We were unable to meet many of you as we had to cancel some of our open days due to COVID19 guidelines. During the Lockdown period we produced a virtual tour of the school that we hope delivers an informative view of our school. The virtual tour is presented by our Headteacher, Mrs Davies, who guides you around our school. You will visit our EYFS teaching team and our current Reception class and you will be introduced to key members of staff. You will get to see some of our children at work and play as well as get a good oversight of our school building both internally and externally. You will even meet our school dog, Rosie Red!
From September 2011 all primary schools must offer children a full-time place at the start of the September term. However, legally children do not have to be in full-time education until the term after their 5th birthday. Delaying your child's entry into school is called 'deferred entry'. You can request this, but your child must start before the end of the school year during which they turn 5. The expectation is all those starting in September will attend full days but if you are a parent of a summer born child and have concerns over full school days please talk to us.
Parent Information Evening, Thursday 24th June 2021 at 6.30pm
We will be holding a parent information evening on Thursday, 24th June at Harpenden Academy. This is for parents only so please arrange childcare for the event. This is a perfect opportunity for parents to meet each other for the first time and to hear how the Reception year unfolds. At the meeting we will have examples of the uniform available. The meeting will be hosted by Headteacher, Mrs Davies and our EYFS Lead, Mrs Aylott who teaches the Reception class from Monday - Thursday. You will meet the whole EYFS Teaching Team: Mrs Haines who teaches the children on a Friday and Mrs Welch, our full time Teaching Assistant. All members of the team will be available for you to chat to freely and to begin the process of you becoming part of the Ladybird Reception class family.
If you have any queries then please do not hesitate to contact our office team by email on office@harpendenacademy.co.uk or by phone on 01582 716910.
Teddy Bears' Picnic, Thursday 8th July 2021, 2.00pm-3.00pm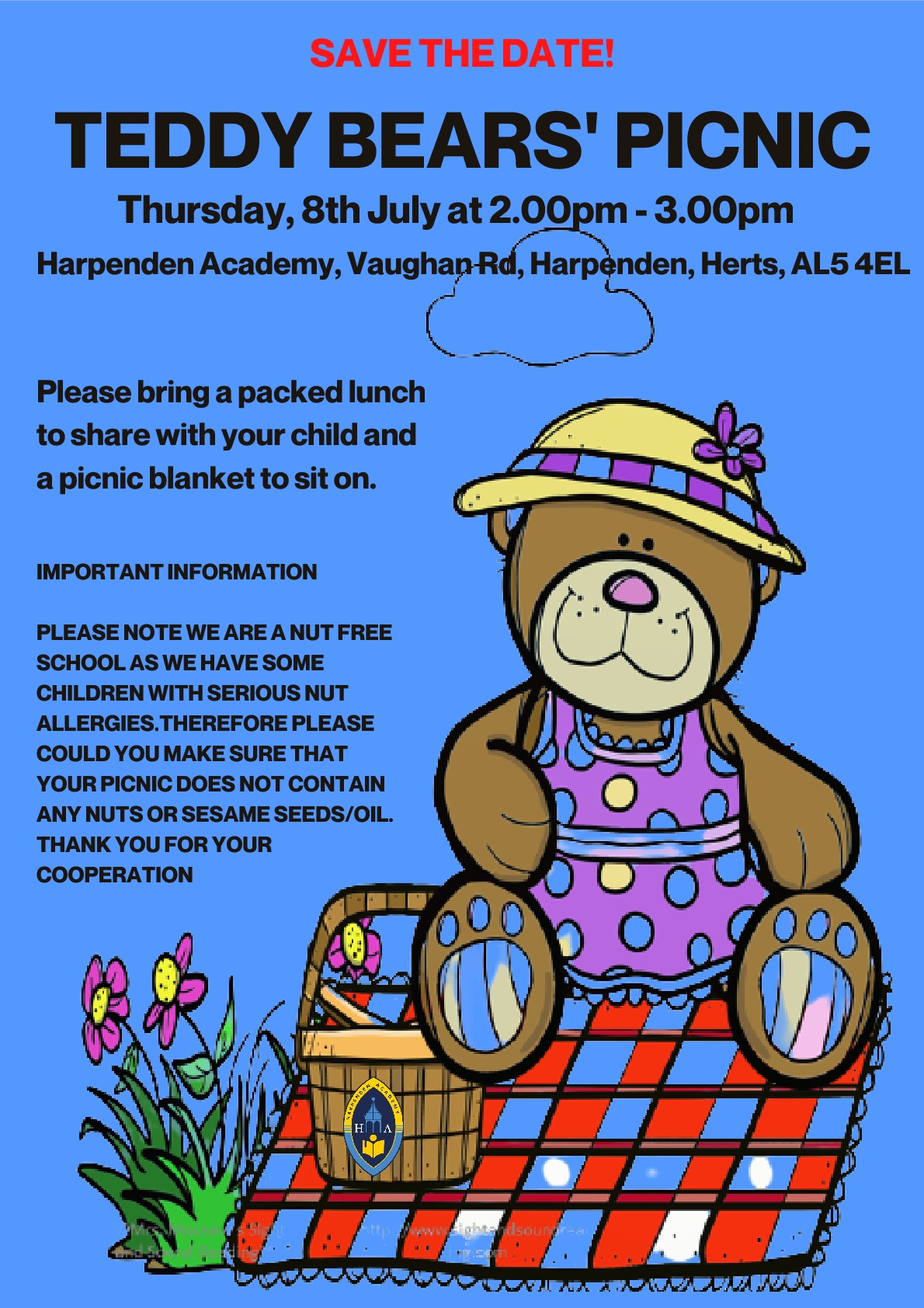 Virtual Tour
Uniform
A very high standard of uniform is expected at all times throughout the school day and on the way to and from school.Please ensure that all items of uniform and equipment are clearly marked with your child's name.
All items can be obtained from the school suppliers:
School Uniform Preloved
Looking for a bargain? Visit our pre-loved uniform page. Uniform items will be available to pick up from the school office within two business days. Returns or exchanges are accepted for unworn items. Please email friendsofharpendenacademy@gmail.com with enquiries and we will be happy to help.
STEVENSONS
Established in St Albans in 1925
10 Leyton Rd, Harpenden AL5 2TL, 01727 853262
7 Acrewood Way, St Albans, AL4 0JY
https://www.stevensons.co.uk/our-branches/harpenden/45
Monday-Friday 9.00am-5.30pm
Saturday 9.00am-5.30pm
Please click here to see our uniform guidelines.
School Tour Reception Prospective Parents September PPT 2021
Primary Parent Information Booklet
EYFS Reception Teacher Passports
Actions for Reception Parents
Copy of email sent to all parents 4th May 2021
Congratulations your school place at Harpenden Academy has been allocated and we are truly looking forward to welcoming all our new children and families into our Reception Ladybird class in September 2021. You will already have acknowledged the offer of your child's place through the County Admissions processing system. There are a few actions that we need parents to do to complete the application process and to ensure that you have all the information you need for a seamless and informed transition to our Reception class:
1
Login to Operoo and verify account information by Friday, 21st May 2021
2

Read your Parent Information Booklet once you have verified the Operoo account

This booklet is a parent guide which will tell you everything you need to know about Harpenden Academy and our Reception induction.

3
Primary Data Collection Form to be submitted via Operoo by Friday, 21st May 2021
4
RSVP to Teddy Bear's Picnic by completing the e-form via Operoo by Friday, 21st May
6
If eligible, apply for Free School Meals
We do hope you find this information useful; if you have any questions please do feel free to email us on office@harpendenacademy.co.uk or to phone the school office between 8.00am-4.00pm.